On Saturday, December 10, 850 volunteers from various bike clubs in San Jose, CA got together in a convention hall tent in downtown. They were armed with shop aprons, tool boxes and bike stands. Their mission today was to build 2400 bikes for needy children. The bikes have been purchased over the last year by an organization called TurningWheels for Kids and the only thing left was to unbox these bikes and assemble them before handing them off to around 20+ charities in the Santa Clara County area of Northern California.
Founder Susan Runsvold talks about the event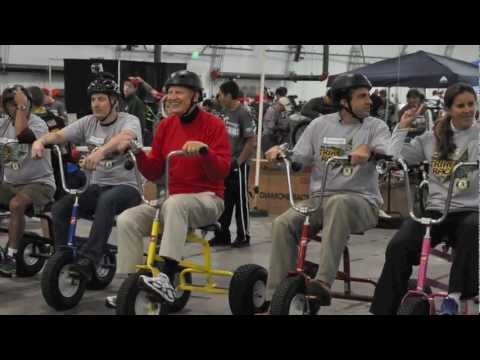 Now in it's seventh year, the TurningWheels for Kids is a volunteer organization with the vision of bringing a brand new bike to a deserving child this christmas. The organization works tirelessly to raise funds, works with companies to arrange the logistics for this massive effort and event. Everything from the convention hall tent, to the time of all people involved is donated or acquired through the donated funds. Throughout the depressed economy, the event has continued to grow as corporations as well as cyclists have embraced the original vision of gifting a bike to a needy child from the age of 2 to 18.
So today, 2400 bikes were assembled in less than six hours. Throughout the convention hall, we captured images of focus and joy. Various teams from Mtbr.com, Quadzilla Racing, Velogirls, Specialized, Fox Racing Shox among many others reveled in the spirit of giving.
Thank you TurningWheels for Kids for the opportunity to spread our love of bicycles to the most deserving in our community.
Coverage video by Ron Aclan