Editor's note: As we welcome a new year, we're taking a moment to look back at the bikes and products that improved our riding experience in 2019. Some products were new for the year, others are tried and true items that are still best-in-class. Here are five products thatBerne Broudy fell in love with in 2019.
---
Berne Broudy's 2019 Gear of the Year
I love to travel and I love to ride. I frequently combine those passions and fly with my bike to off-the-beaten-path places, like the country of Jordan. I biked the length of the country last November. My gear can't fail. If it does, I'm screwed. So my favorite gravel gear needs to be completely dependable, and able to withstand heavy use on remote missions.
---
Shimano Di2 GRX Drivetrain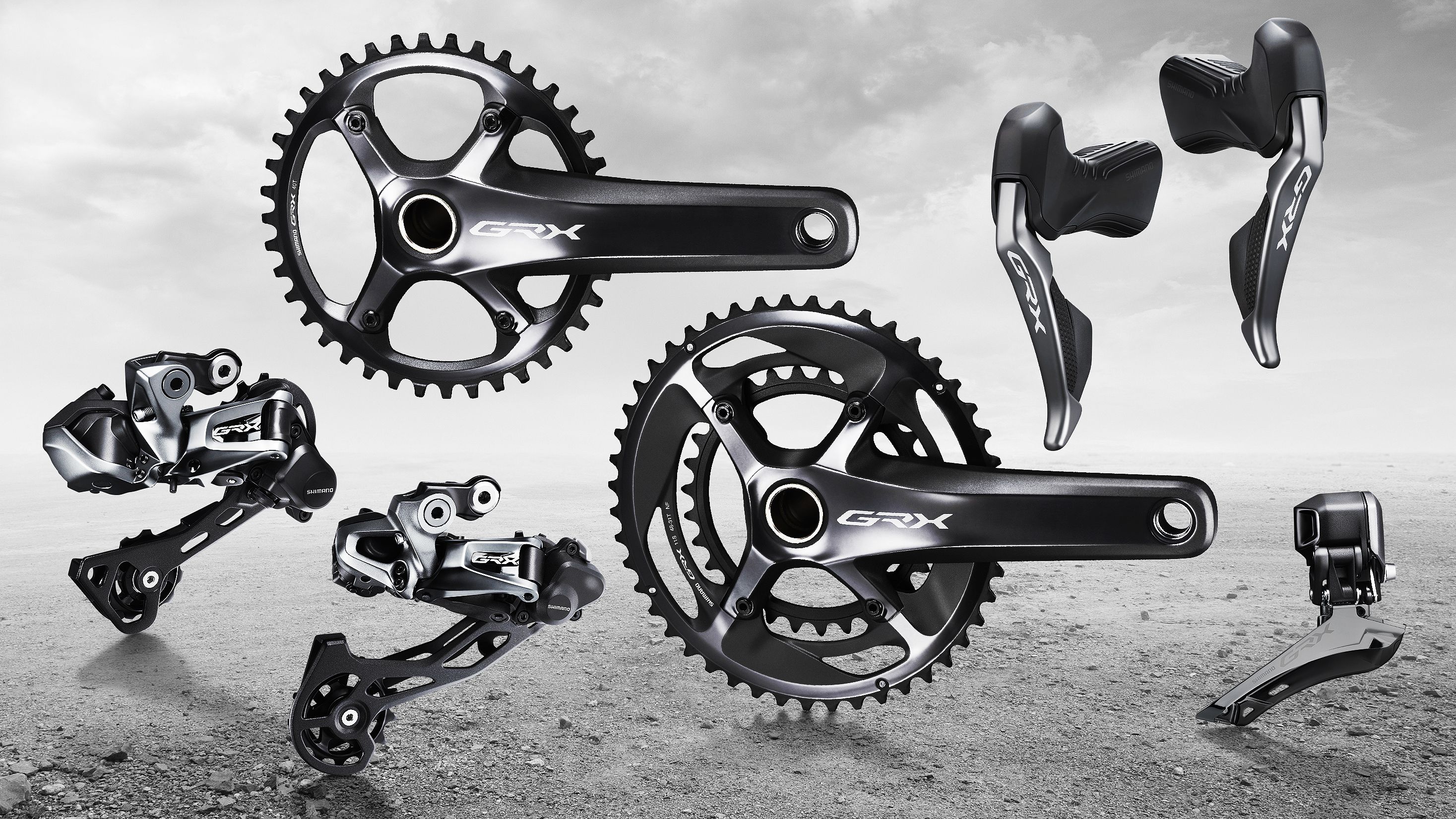 I was on the fence whether or not riders need a gravel-specific component group until I rode Shimano GRX for a 13-day tour of Jordan on broken pavement, dirt, and trail. I've never felt so psyched about my brakes and levers particularly. Shimano's new 11-speed Di2 levers made it easier to brake on sketchy descents. That's because the brake axis, the brake lever's pivot point, is 18mm higher on GRX levers than on their road levers. Both on the hoods and in the drops, I had noticeably more stopping power. At the end of the day, I also noticed my hands weren't as tired. GRX hoods and levers are subtly textured and easy to hold on to when riding without gloves, or when the terrain is better suited to a mountain bike than a gravel bike. The levers have an ergonomic curve to match the flare of gravel bars for easy engagement. And more pronounced knobs on the hoods let me move my hands around, which was welcome on big days. I didn't program the levers, though I did use the E-tube "Plug & play" and D-FLY wireless connections to check the system's status.
More info: https://bike.shimano.com/en-EU/product/component/grx-11-speed.html
Price: (Varies by build)
---
Blackburn Outpost Elite Universal Seat Bag and Dry Bag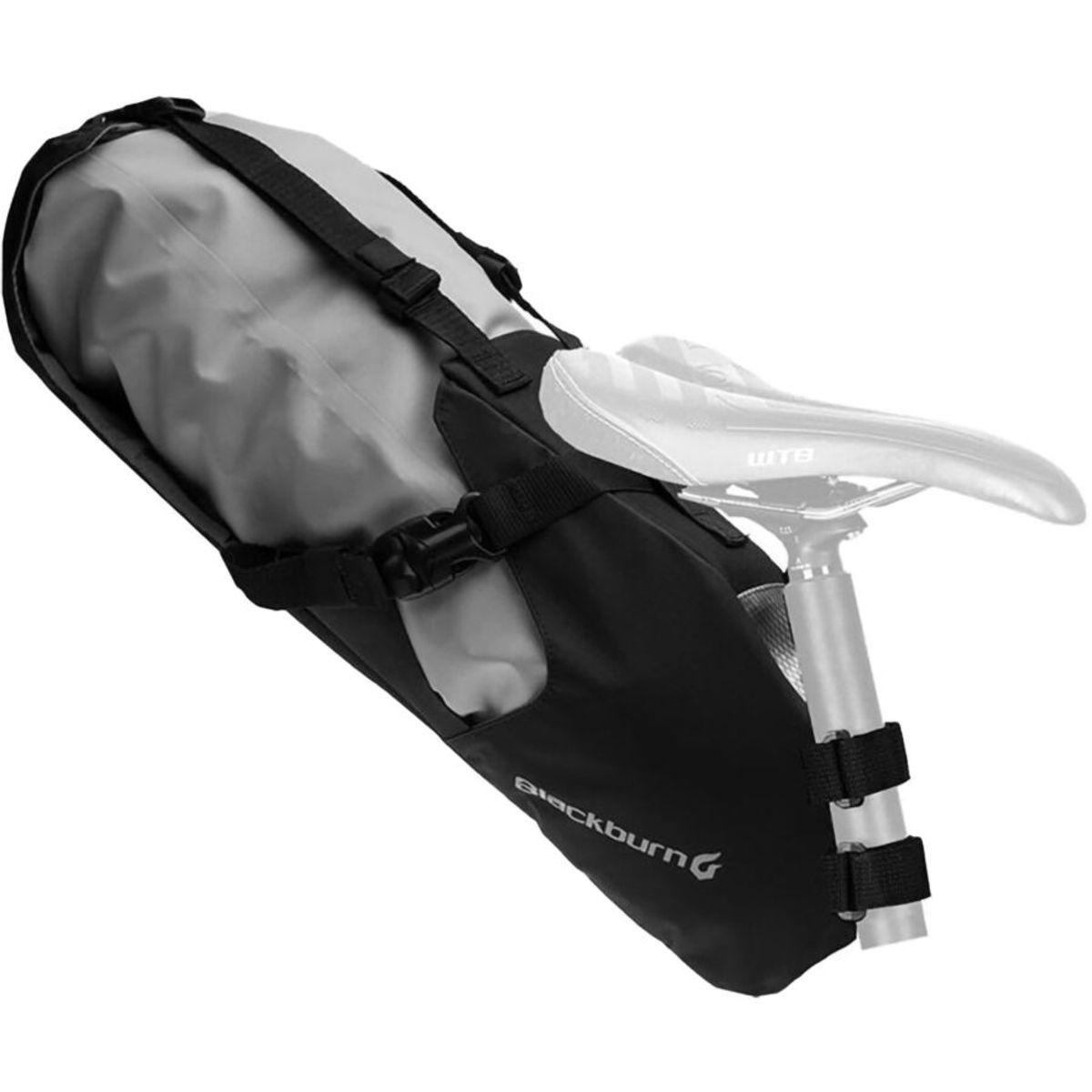 When I tour, I like to minimize weight on my handlebar and keep weight off my back. So my seat bag takes a good portion of the load. I had to read the directions to get the Outpost Elite's mounting bracket positioned properly under my seat—it comes with two options—but once I did, this bag held an enormous amount of gear in a waterproof roll-to-close bag, with space to store more gear under a bungee laced on its topside. Unlike seat bags that are only supported by straps laced through the seat rails, this one uses a metal clamp around the seat rails to support a partial frame. The bag clips into webbing laced through that frame. Not only did the system keep the bag contents stable on really rough roads, but it also made grabbing the bag off the bike quick and easy. It releases with two side buckles. The waterproof bag is tough, and despite weeks of jamming it to max capacity, it doesn't show any signs of failing seams or excessive wear. The side buckles are sturdy, and even when this bag was overtightened so I could load the top with sneakers, extra food, and spare water, it supported the load without flopping around.
More info: https://www.blackburndesign.com/p/outpost-elite-universal-bike-seat-pack-dry-bag
Price: $124.95
---
Next Grit 650B Wheels with Project 321 Hubs 
Built-in my hometown of Richmond, Vermont, these wheels are the most durable, smoothest running, and quickest engaging I've ridden. Project 321 hubs use magnets as a pull spring to move pawls into the drive ring, for less drag and less noise than other high-end, high-speed hubs. The freehub on these wheels had 216 POEs. As a female riding through a country where, for the most part, women are not seen, I didn't want my wheels to further attract attention, but I did want to ride great wheels. Project 321 Hubs paired with Next's Grit Xplor+ road plus rim, which does double duty for gravel and cross-country racing. I choose 650B/27.5 for paired with 47c tires for my Jordan adventure. The wheels were delightfully light with a lovely shape: 35 external, 25 internal with a wide, soft bead to reduce the possibility of tire cuts at low pressure, and Sapim CX-Ray spokes. I tested the wheels on mountain bike trails in Colorado and Vermont before loading up and climbing 63,000 feet and descending nearly the same over two weeks in the Middle East. By the end, my wheels were scratched and dusty, but perfectly true. If they weren't, I would have shipped them back to Next, which guarantees them for life.
More info: https://nextcycling.com/collections/road-plus-compatible-wheels/products/xplor-xl-slate
Price: $1,895
---
Ergon SR Pro Gel Women 
Ergon says the connective tissue in most women's pelvises is positioned lower than in a man's, and that the inward angling of women's pubic bones is broader in back. This saddle isn't the first to have a pressure-relieving front of saddle center cutout and a broader, more supportive saddle back. But it's the most comfortable saddle for gravel riding I've been on this year, The v-shaped flank and tapered channel distributed my weight in a way that I never felt saddle sore, bruised or weary at the end of long day trips in Vermont's Green Mountains, or on repeat days of 7000' climbing. Sitting on it, the saddle feels flat with a supportive back. It's constructed from a nylon composite shell with TiNox 7×7 rails, and a microfiber cover over orthopedic AirCell Foam with OrthoCell pads. I rode the road version, which is for women who pedal in a more forward-leaning position, and which has more saddle nose padding. Choose the SM version if you're a more upright rider. And don't feel priced out—the Sport Gel version of this saddle is also excellent, and $40 cheaper.
More info: https://www.ergonbike.com/
Price: $130
---
Velocio Wind Vest
I go from cold to hot and sweaty fast. Many times, I've barely put a jacket on before I peel it off. Velocio's wind vest is the perfect solution for me—it's gives me a little bit of extra warmth, but it's breathable so I don't overheat as soon as I start pedaling. The vest has windproof and water-resistant softshell synthetic in front and on the sides, and breathable mesh in the back. Zipped up, it took the bite out of nippy desert mornings—a wind flap over the zipper eliminated cold spots. And as the day warmed up, I could unzip to temperature-regulate before taking it off, rolling up the vest and storing it in my jersey pocket or my frame bag. Three big stuff pockets held tools, phone, headband, snacks and more. Silicone gripper on the hem prevented gaposis. And the microfiber collar was soft on my chin and didn't flap around.
More info: https://velocio.cc/collections/womens-jackets-vests/products/womens-wind-vest
Price: $149
---
Was there a piece of gear you loved in 2019? Let us know in the comments.