Hi,
I have a 2014 Roubaix SL4 which I converted to Ultegra DI2: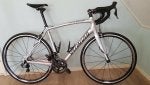 I'm having trouble locating a bottom bracket cover that fits. My local Specialized dealer found a cover that almost covers the hole, but I have to resort to using duct tape to prevent dirt to enter the frame:
Here's a pic of the bottom bracket without cover:
Visited a couple of other Specialized stores and inspected the bottom brackets of various Roubaix models up to 2016 and none look like mine. Does anyone know if a cover even exists for my frame?
Thanks!