Discussion Starter
·
#1
·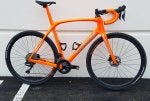 With the 2020 Trek Domane SLR gaining so much tire clearance, I saw that it fit my needs for a gravel race bike perfectly. I don't bikepack but I'm looking forward to running fenders on it for wet winter road rides. Integrated fender mounts make this a breeze.
Standard Domane Endurance geometry was too tall for me. The lower Pro Endurance geometry only available through their Project One custom site. Splashed some flashy paint on it while I was in there
60 CM Pro Endurance geometry
Dura Ace Di2
D/A power meter 180mm cranks
Ultegra 46/34T
D/A 140mm rotors
Ultegra RX805 clutch derailleur
D/A front derailleur
XT 11-40T cassette
Bontrager 42cm x 12cm XXX one piece carbon bars
Specialized power saddle
Crank Bros Egg Beater 11 pedals
Carbon cages
DT240 hubs
Sapim CX ray spokes
Light Bicycle 23mm internal carbon tubeless
Michelin Power Gravel 35c
Weighs about 18.5 lbs. I knew the build would be a bit heavy but comfort and durability is far more important at mile 150 in Dirty Kanza than a few grams here or there.
Tire clearance in rear is 54mm. The Michelins measure 37.2mm on my wheels. Easily room for a 40c pushed out to 42mm on a wide rim. Running fenders will require smaller tires of course. Winter road plan is 28c GP500 tubeless
Build notes:
FD adjustment slot would not go low enough for 46T chainring. Had to file it about 2mm lower to get correct FD height.
Cables are easy to run despite being all internal. Didn't even need my Park IR 1.2 cable routing kit that every other IR bike I have built required.
On all my Di2 bikes I install the wireless transmitter between the bars and TT. This allows easier service but also lets me unplug shifters from battery. For any Di2 owners who have inadvertently drained their battery by storing the bike against a Di2 trigger..
T47 threaded BB is awesome!
Storage roll in DT is way too small for gravel tube. Barely enough room for road tube. I plan to find a small pump that will fit in there. Ordered the Bontrager BITS multitool that clicks into the cover on the inside.