Discussion Starter
·
#1
·
First, let me give you a short intro for any who don't know me. I'm pretty new to road biking, but I'm hooked (recreational/fitness only). I bought an '08 Cannondale Synapse Carbon in November and I've been riding a lot. My original goal was improving fitness and working up to comfortably completing the STP in July. I started weighing 242 (Nov '08) and I was trying to get to 200 by the STP - I'm already down to 208 and dropping steadily.
After my bike got ridiculously dirty on an organized ride, I thought it might be nice to buy a cheap bike as a "trainer only" ride. A couple weeks later, and passing from thought to thought to thought, I'll skip the details and get right to it...
Instead of just wasting the money on a "trainer only" bike, I want a bike with a stiffer frame to grow into, and I also REALLY want a bike with full SRAM groupo. I really want a Cannondale CAAD9, and comparing price/value on SRAM components, I think the '09 Rival would be the perfect fit. That would leave me with a carbon "comfort frame" with Shimano components (except for the Red crankset) and a super stiff aluminum frame with SRAM components. What can I say? I like variety and choices :wink:
If you were me (in this situation), how would you go about doing it?? My LBS takes GOOD care of me (I bought the Synapse in November, which was a closeout, and I did some upgrades through them initially). I was thinking of getting the Rival groupo from competitivecyclist.com (around $700-$800), and purchasing the CAAD9 7 ($899) from my LBS and having them do the work. Then maybe I could try and sell the Sora/Tiagra components that come with the bike to save a little bit of money.
Several months later, I'd probably order another set of Neuvation M28's, upgrade the stem/handlebar/seatpost, etc.
The other option would be to get the CAAD9 5 which comes with the new 105 components - but the only reason I'd do that is if I could find someone who would be interested in paying the money for that groupo.
Decisions, decisions!!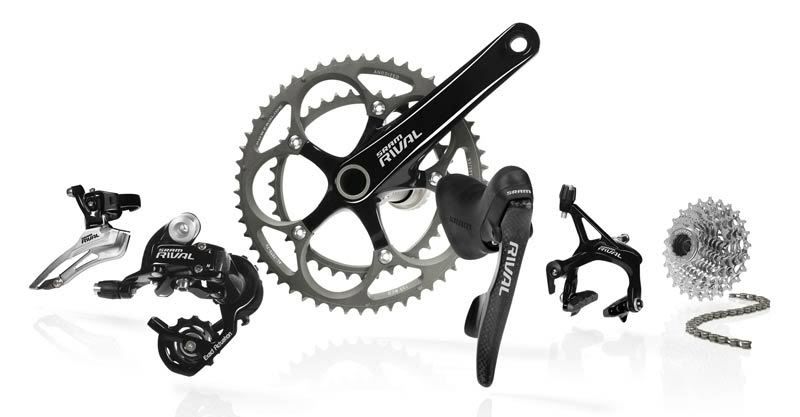 P.S. I made an Excel spreadsheet that details the differences between the CAAD9 7, 6, and 5, along with images of each of the frame's paint schemes, if anyone is interested.