looking at the specs of this bike here: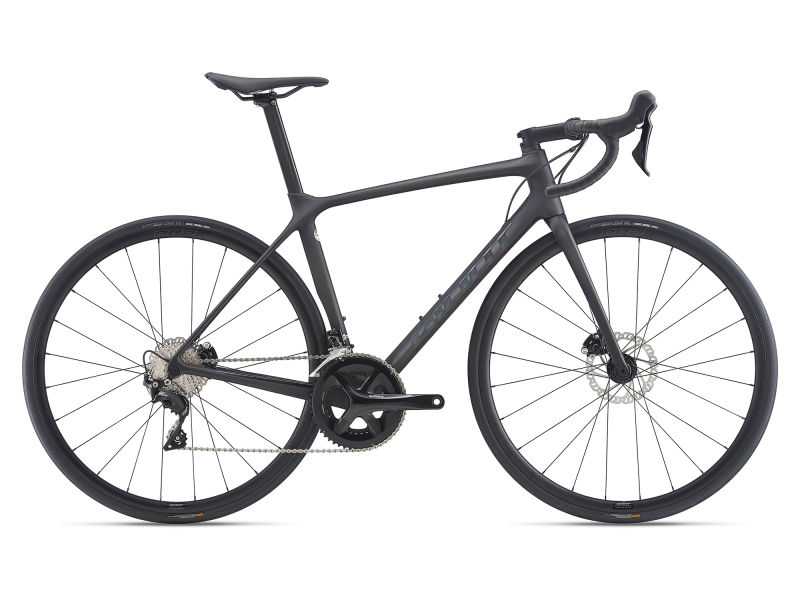 Reengineered with updated aerodynamic tube shaping in the headtube, downtube and fork, plus added clearance for larger diameter tires (up to 32mm), the new TCR Advanced Disc delivers outstanding on-the-road efficiency. ...

www.giant-bicycles.com
..it came with 25c tires setup tubeless.
So, you could just use 25mm tires front and back with Continental race butyl tubes (or any race butyl tubes).
Or if you prefer a bit more comfy ride, or if you're heavier than 160 lbs, then go with 25mm tire up front and 28mm tire out back. If you're 175+ lbs, then go with 28mm tires front and back. Don't go bigger than 28mm tire as anything bigger than 28mm will feel slow and soft (not for fast racing on street tarmac).
Also, get a SOFTER tire for the front, like those tires designated as "corsa" types (eg, Vittoria Corsa, Veloflex Corsa, etc). And get a harder tire for the rear, like Continental 5000, or even the heavier one Vittoria Rubino Graphene. You do not want to get a soft "corsa" type tire for the rear, no matter how big the size, because you'll end up wearing the corsa tires out fast on the rear.
28mm tires will last longer, wears slower, than 25mm tires.