Discussion Starter
·
#1
·
If you're an avid cyclist, can you touch your toes by bending over with your knees straight? (Like the guy below...)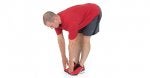 If you answered "yes"...
How long have you been a cyclist?
Have you always been able to touch your toes?
Do you stretch before/after exercising?
I've been riding a bicycling of some sort for almost the entire 42 years of my life and I've never been flexible... and I've also never tried to be. I suspect the reason for it as that I road BMX bikes as a kid, then got into road biking at about 14 years of age and mountain biking shortly there after, but never stretched... ever.
I've always hated stretching and always considered doing some low-power spinning at the beginning of my rides as all the warm-up my muscles need. However, as I get older, the fact that my lower back and ham strings are tighter than piano strings is troubling me. I started stretching after my indoor rides over the winter, but I feel like I'm making no real progress in terms of increasing my flexibility.
For those of you who might've been in my situation at one time, is there any hope? Can years of non-stretching be un-done without devoting half my life to yoga or something like that?