Discussion Starter
·
#1
·
Wasn't really planning on buying a new bike this week, BUT, everything lined up for me.
My taxes weren't as bad as I thought they might be, I had the whole week off to test ride frames.
I test rode Scott Speedster, Specialized Dolce, Comp, Specialized Allez, Giant TCR (was nice, Ultegra, on sale, but more than I was wanting to spend by a good bit), Fuji Finest 2.0 (my least favorite), and Trek 2.3.
My husband has been scouring Craig's list for a few weeks, but I wasn't really convinced I was buying anything just yet. Then he found exactly what I was looking for literally 5 minutes from my house.
SO.....
I bought a 2007 Scott Speedster Contessa (women's geometry). Owner said it had about 100 miles on it. 5 rides. So it's basically brand new. It looks brand new. I can't find a thing wrong with it. I paid less than half of what the 2009 was going for at my LBS.
My wish list was:
Lighter than my current bike (a Giant FCR3)
105 group set
carbon seat post
carbon fork
I got everything I was looking for. I got it home, immediately took off the white saddle and white handlebar tape, and replaced it with my current saddle and black bar tape. Gave it a bath. Rode it around and made a few fit adjustments. Ran up to the bike shop and bought a set of pedals, some bottle holders (I went with black... what do ya think?) and a tiny set of lights so I'm street legal after dark. I don't plan on riding this bike in the dark, but, just in case, I'm covered, technically.
I put my old saddle back on my Giant, and will continue to use it for commuting, which is what the bike is great at.
Weeeeeeeeeeeeeee!!! New bike!! I can't wait to get up tomorrow and ride (my last day of vacation)!
What it looked like when I got it: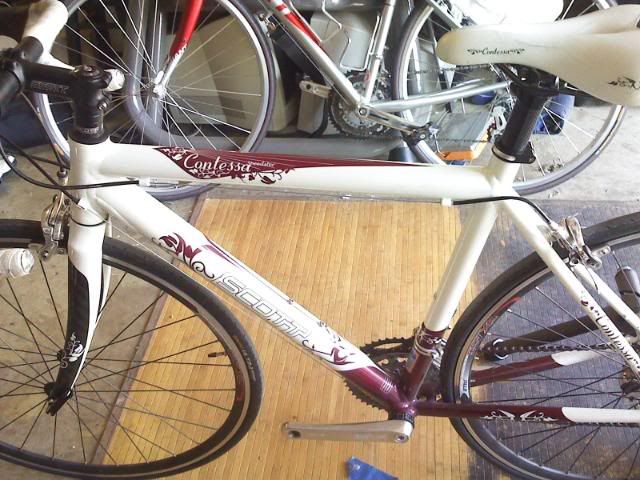 Now: