Discussion Starter
·
#1
·
Following a generous refund by Uncle Sam, and not fully enthusiastic about the bike I was riding (a 59 cm LeMond Buenos Aires), I decided to get fitted for a Mootour frame in February. My goal in biking is to be able to do multi-day supported touring, as well as demanding day tours in the Alps and Dolomites--but I also want to be fast enough to beat the other guys to the street sign. The single most limiting factor on the old bike was cramping in the lower back, which started about 20 minutes into each ride and would require me to get off the bike a couple of times during the ride.
I got fitted and my Moots dealer came up with an even longer top tube measurement (61 cm) on a 5 degree sloped frame. All other angles are standard. He agreed that a YBB rear joint would help overcome backpain from fatigue; if I didn't need it, I could always lock it out. I went for a IF steel fork, since I like the feel and the direction of steel. The additional challenge was that I would be in Vienna, Austria, for the delivery of the frame.
After several unpleasant miscommunications and delays, the frame arrived in mid-May. The local dealer in Vienna cut me a deal for a mixture of Campy Record (BB and crank) and Chorus (levers, derailleurs). He also built me a set of 32-spoke wheels on which I fitted Rivendells Rolly-Poly 28' tires. I'm a Brooks afficionado, so tape and saddle are Brooks. Here's a (rather murky) picture of the completed rig: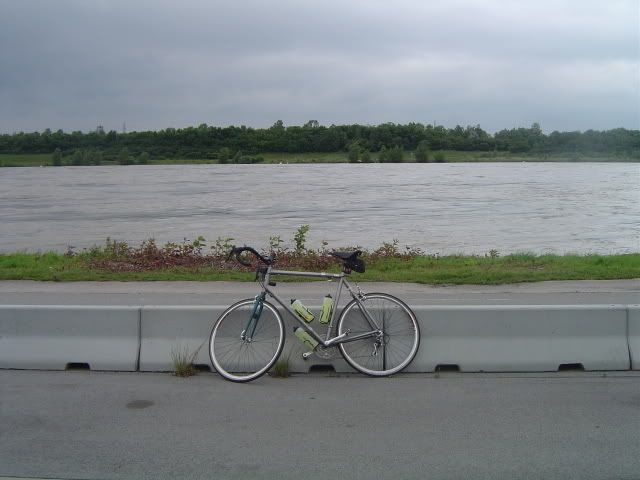 After getting tired of haggling with yet another Austrian tough guy over a few Euros, I decided to give my LeMond to someone I met here and of whom I knew he would like it. Best decision ever! He was overjoyed, started riding with me, and is generally a fantastic guy. Give your bikes away, if you can, I recommend it!
I've been riding a little over 1000 miles since then--a lot (for me), but this is prime biking country: flat along the river, hilly and quite challenging further off, beautiful roads, lots of respect for cyclist. Plus, there's Paris-Brest-Paris next year!
The bike is beautifully made, quite light, but very sturdy. It has a beautiful feel for the road, a little like a very attentive horse. Great descending (the enormous wheel base has something to do with that), and very good climbing manners. It's stiff and responsive. After only a few rides I knew that the longer top tube indeed eliminated my back pain, a tribute to the courageous fitting by my dealer. I'm running the Rolly-Polys at 90 psi, and they are very good tires--great grip and comfort. I'm not ready to pronounce on the great Campy-Shimano divide, but I've had my share of missed shifts!
I have a couple of gripes with the Moots experience, only one of which is serious. The first is the melancholia of the fulfilled desire--the reason I bought the Moots was that I knew I would not rest until I had one one day, and a friend politely pointed out that I wasn't exactly getting younger, and that that day might have come. But I guess I can live with that.
The second is that through Moots' dealer system I felt disconnected from the whole process of designing and building the frame. I got to see the first design sheet, but didn't really know why certain design decision were taken, what size tubing was chosen etc. Communication with the dealer was often complicated, and emails weren't answered, which I found vexing. I'm not a neurotic customer, but when I invest that much money, I expect emails to be answered within a couple of days. A friend of mine had a Roberts built in London at the very same time, and he got calls from them telling him where in the process they were, and what they were doing. Anyway, it's water down the bridge.
The more serious problem is the YBB (for those who don't know what that is, here's a picture
SInce the longer top tube took care of my back pain, the YBB doesn't really add anything. I sometimes open it up on gravel roads, but even there, the loss of responsiveness and the eerie back-and-forth rocking motion at high speed far outweighs the increase in comfort. Opening it up also seriously compromises your saddle position. I ride Brooks saddles (and never really had a problem before), and with the open YBB the saddle dips down backwards almost 2cm, which means the nose comes up, and that is quite painful, if you know what I mean. Lastly, the YBB doesn't fully lock out--even if I turn the locking screw to the max, there remain about 1-1.5 cm that the bike will travel down during a long ride. I noticed that first when I unlocked the collar and the bike jumped up again. No wonder my saddle doesn't feel comfortable any more! I also think, but have really no comparison, that the YBB in full lock-out is stiffer than regular two-tube seat stays. In other words, by adding the YBB I achieved the opposite of what I wanted, a more compliant rear triangle. I'm not accusing anyone, but I think with a bit more communication this could have been avoided.
There is no question in my mind that, once the YBB issues are solved, this is indeed the ultimate long distance racing climbing descending even dirt road bike. Like everybody else, I'm in awe of the workmanship on the frame. It's beautiful too, in an understated sort of way. I've taken off all the decals, and with the 32-spoke wheels it looks kind of dorky, like the librarian before she takes off her glasses. We're riding here with a very tough climbing/racing guru from Tanzania who puts us through our paces, and everybody comes in full bling. He complimented me the other day, saying that he hadn't expected me to be this fast with "an old bike like that". That's what I've always wanted: to spend 6 grand on something no one notices, except if it's used.