Morgan Territory and Mt. Diablo South Gate side
Last weekend, I did the Morgan Territory/Mt. Diablo loop for the first time. It was a group ride with the Hammerin' Wheels and the WAV Riders women's cycling club.
The climb up the north side of Morgan Territory was pretty nice. Lots of mini descents and stair-step climbing. It kind of reminds me of a very mild version of the lower part of Mix Canyon, due to the stair-step climbs. I felt really good here and was able to finish strong at the visitor center.
The descent down the south side was a blast! I look forward to climbing that side sometime in the future, but not if it's hot! It looked like it would be my kind of climb
.
On one of the flatter roads after Manning Road, some nutless wonder decided to attempt "rolling coal" on me and the other female cyclist riding behind me. Neither one of us was doing anything wrong, and we were on the far right side of the road, out of the way of motorists. What's puzzling to me is the fact that he actually gave us plenty of room before belching out that weak plume of smoke.
I talked to a lot of cyclists later, and most of them had the same encounter with this jackass.
On Mt. Diablo, I faded after the first few miles, so by the time I got to the ranger station I had to stop and eat real quick. Originally I wasn't planning on stopping at all, but I felt like sh_t!
After I resumed climbing I felt even worse. I got a headache and had no energy. Thankfully the headache disappeared right before the climb up the Summit Wall, where I shifted to my lowest gear and just crawled up. My legs cramped up right at the summit sign, forcing me to stop. Another Hammerin' Wheels rider was right there and held my bike for me while I recovered. After a couple minutes I got back on and rode the final few feet to the level parking lot.
I will return to The Mountain this weekend and climb it properly (as long as it doesn't rain, that is). This time I will only climb Diablo though, not Morgan Territory.
Here's the view of Mt. Diablo from Morgan Territory and Marsh Creek Roads
Top of Morgan Territory climb, sort of. When we all left to descend the south side, I found out the hard way that this is only a false summit.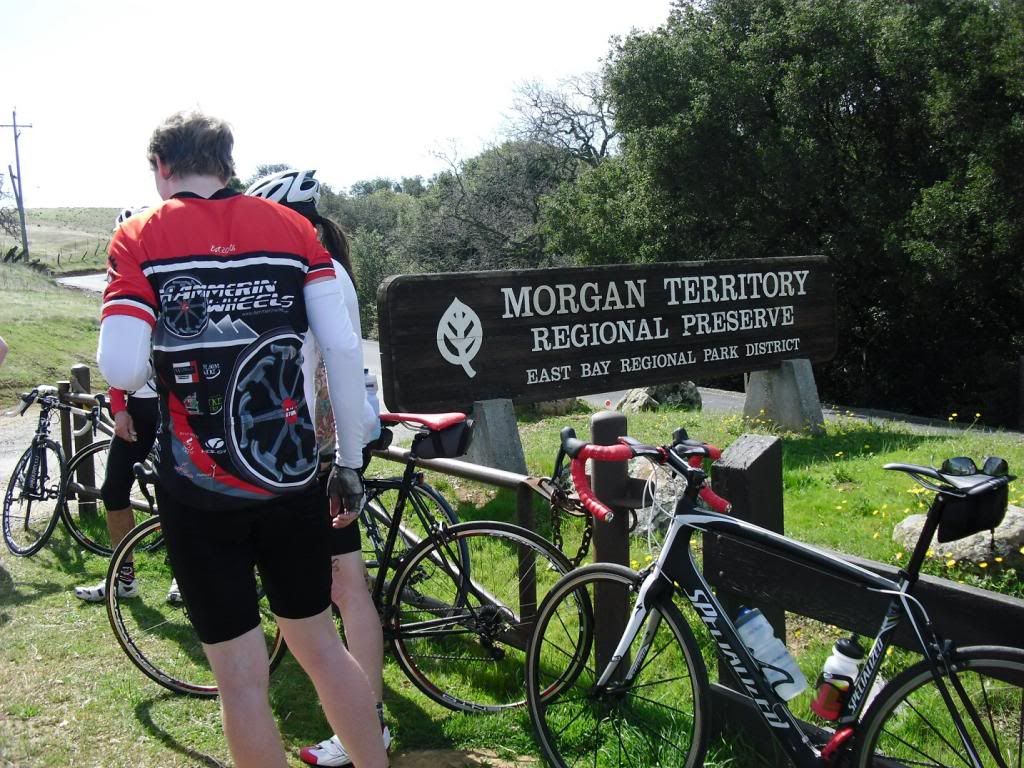 Bottom of south side descent.