Discussion Starter
·
#1
·
I posted a similar thread on Bikeforums also. Just wanted to thank everyone here for all the help I've gotten building this bike. Not only is it my first fixed gear, but also the first time I've built up a bare frame. I've only posted a few times but have been lurking for quite awhile. Also I've really been burning up the search feature.
This project started out of my need for a pit bike for when I'm at the racetrack (my other hobbie). I thought a fixie would fit the bill petty good and be different from everyone elses ATV's, golfcart's or scooters. First I picked up a frame from Ebay.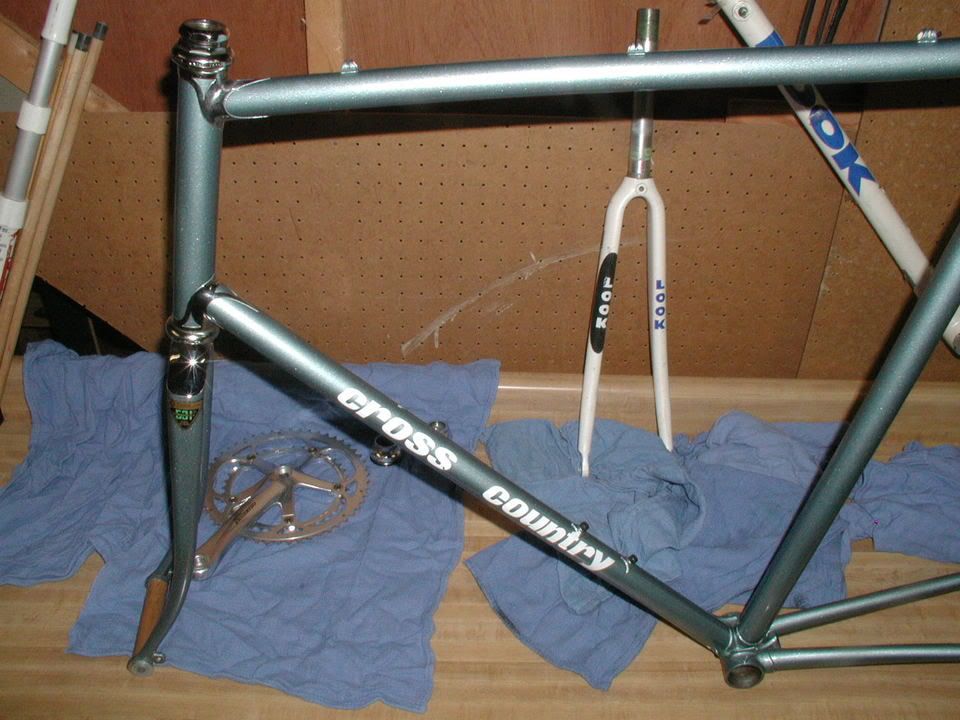 It's an NOS frame built in 1984 at Franklin Frames in Ohio. It was branded as a store brand and then never sold. It's generaly in brand new shape other than some small paint chips from years of storage. Frame is R531 and measures about 63cm c-c. I'm pretty happy with how it turned out, plus I had a lot of fun building it. I did everything but the BB install and the brake cable. So far I've only riddin a couple of miles and I love it. This thing rides so smooth and fits my 6'-4" self way better than my 61cm Lemond. Did you know you can't coast on these things?
I love how it makes no noise, totaly silent. Here's a shot of the completed bike.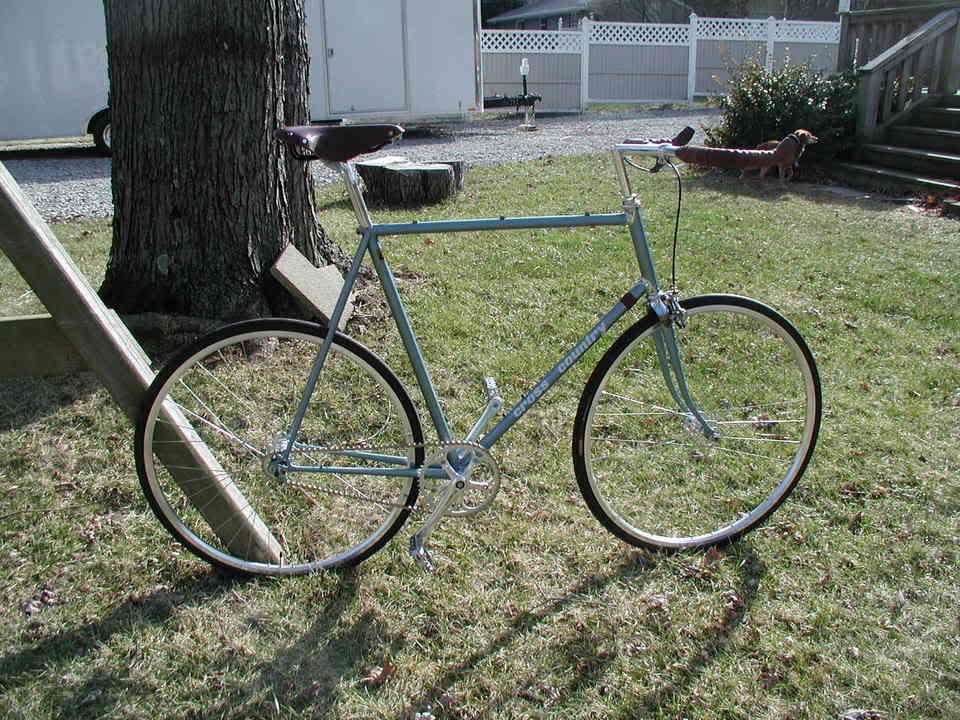 I used some cheap Sugino cranks the LBS sold me for $70.
Found a NOS mid 80's campy seat post and bolted on a Brookes B-17 narrow.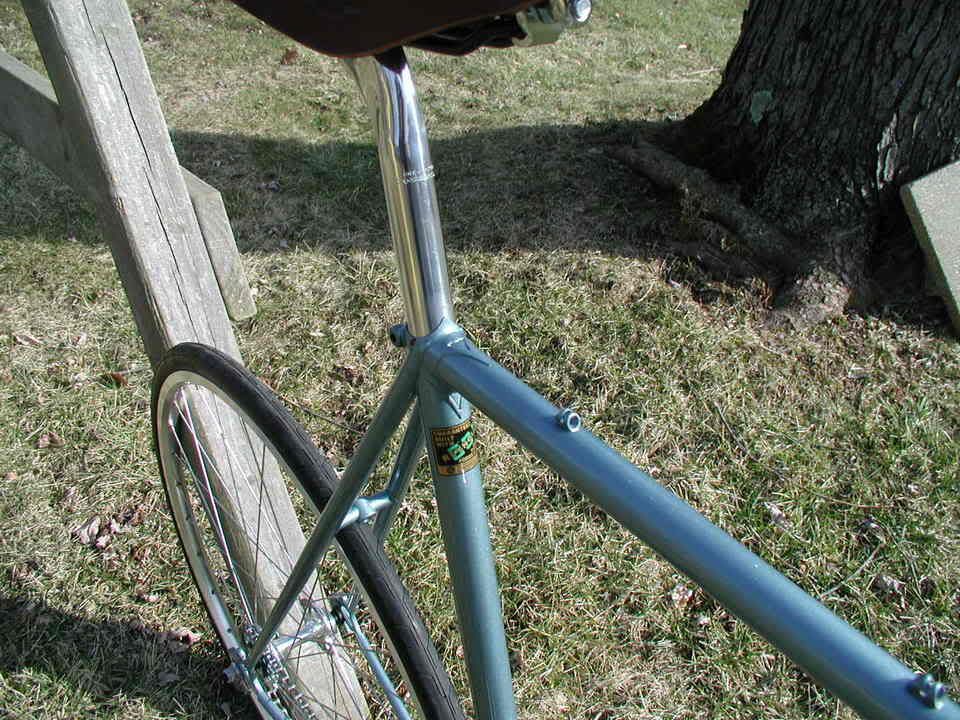 I ebayed some used, mid 80's campy record brake parts.
Busted the budget with the matching Brookes leather wrap. I'll be lowering the bar, but I want to sneak up on it so I don't scratch up the new stem.
Chain line turned out very nice. I purchased the wheels from Tony at IRO. They're IRO/Formula fix/fix hubs laced to 32h Velocity Synergy rims. Pretty heavy duty rims with eyelets, kind of a boxy touring rim. Running an 18t cog until I figure out what I'm doing.
I used Profile Design Stoker 26 bars. They come anodized black, which didn't really look right. So, I wirewheeled off the black, then hit it with 220 sandpaper, then 320, 400 and 600. Polished with two steps of compounds and this is how it turned out. I know, kinda dumb, but it was cold out so it gave me something to do.
The brake adjuster hits the frame, so I stuck on a little piece of the left over bar wrap for protection.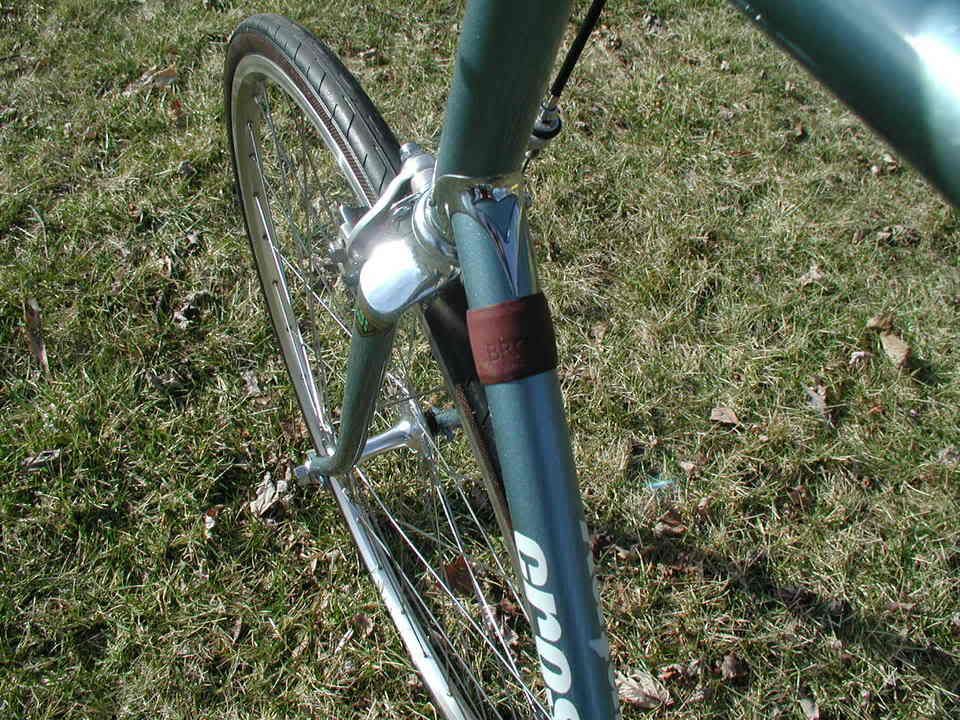 Well that's it. I hope you like it, but you don't have to. Let me know if you see anything that I did wrong or that is dangerous. I like the ride so much that I fear my geared bike will be doing a lot of nothing in the future.
thanks
Shayne