Discussion Starter
·
#1
·
Ok, I have to do this all over again as I typed out this long post and then closed to window! Then I kicked my cat and restarted the war in Bosnia. Roar!
Anyways, I couldn't stop the itch to dump more cash into my Capo. Call me crazy.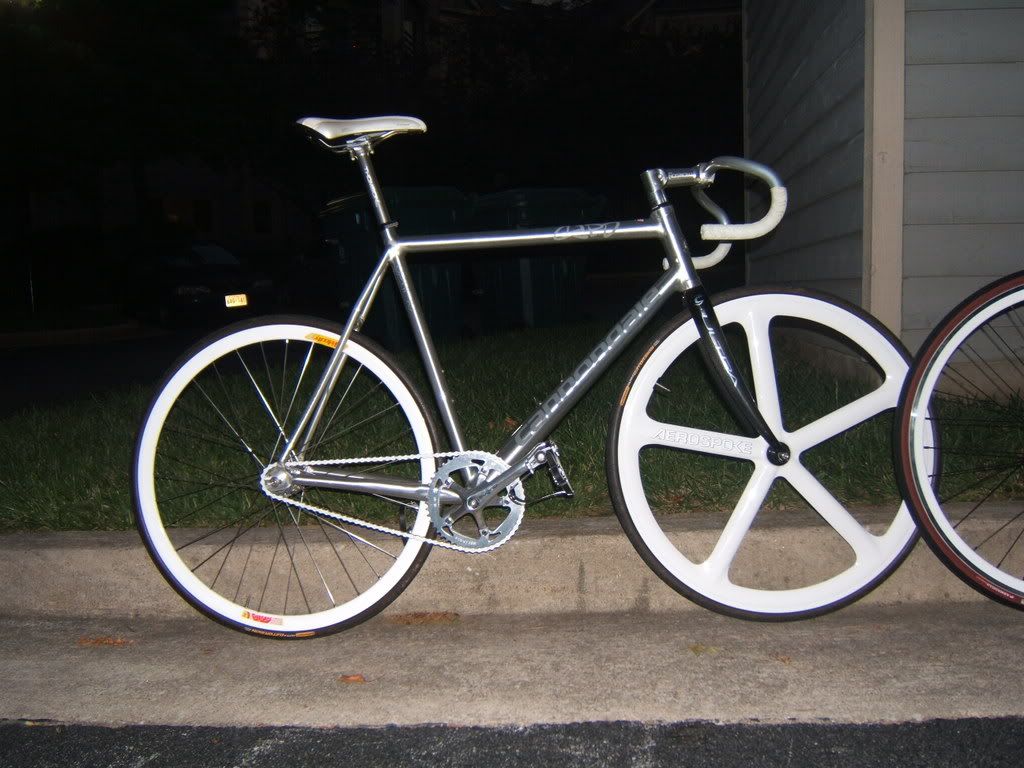 First thing I did was flip the Thomson stem and what a difference that made. Love it. Lost the TTP and found myself a Phil Wood Fixed/free hub on the CL for 110 bucks then had it laced to a Velocity Deep V courtesy of the greatest wheelbuilder in College Park : Whatshisface Beardedguy. Picked up an Aerospoke bolt on the very next day and just today I picked up my Thomson seatpost to match the stem. I feel it's an improvement. I also dropped the front brake and started drinking lots of milk to help heal all the bones I plan to break. But I should be getting all the girls anyday now so it's worth it.
Soma 4x clips and straps are on the way (or so they say) and I'm going to be cutting the spacers out of my steerer tube someday soon. I also want to switch to a 1/8" drivetrain via Sugino Zen chainring and Phil cog. No rest for the wicked.
Also to be unveiled is my other CL find : Schwinn World Sport that the previous owner painted white around the lugs and black the fluting on the seattube, which I think is kidna cool. Is a bit small for me but it's my sidewalk bike/date bike and it manages these tasks just fine. The original wheels were the first to go and were replaced by Formula hubs laced to Velocity Deep Vs wrapped in Armadillo 700x28c rubber. Yes they are machined and no I won't be running a brake.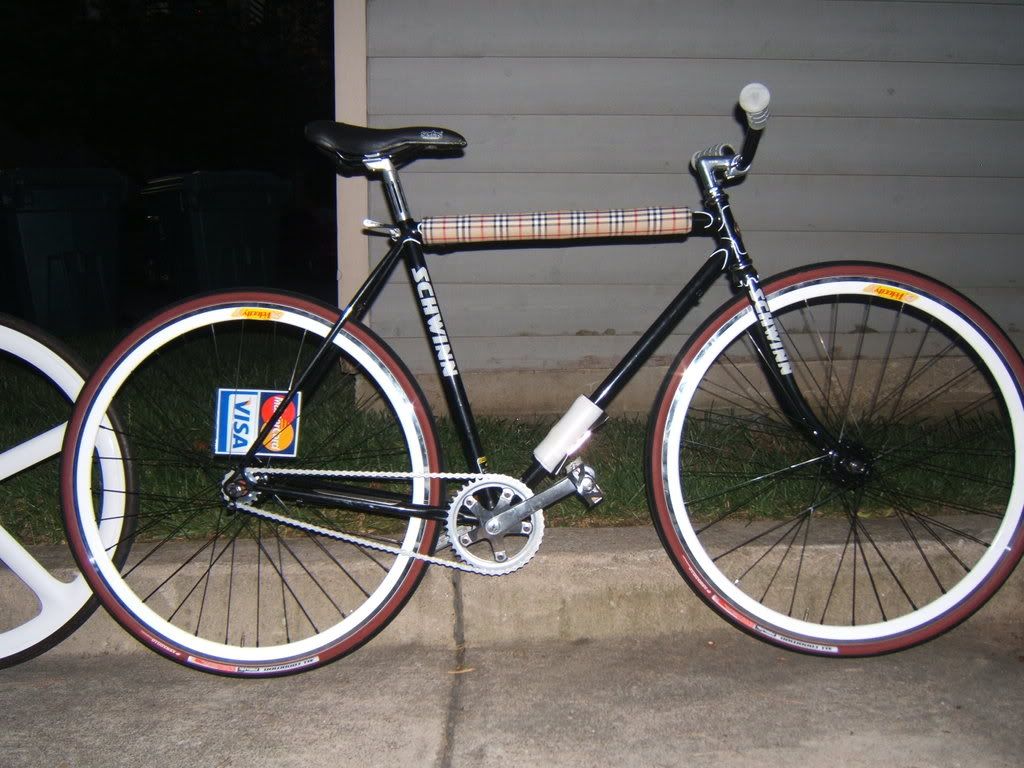 Came with these no-name risers that I chopped down a bit and threw some Oury grips on. Sakae stem and stock headset are buttery smooth. Yancopads to cover up some rather ugly cable guides until I find the time to file them off. Serfas saddle and original seatpost over a no-name 38t (I think, maybe 40...yeah 40t) chainring and some older Sugino cranks. Soon as my clips and straps get here it will get MKS pedals and clips Surly 15t cog in the back.
And lets not forget the folks at Visa and Mastercard who made this all possible and are honored here with my one and only spoke card.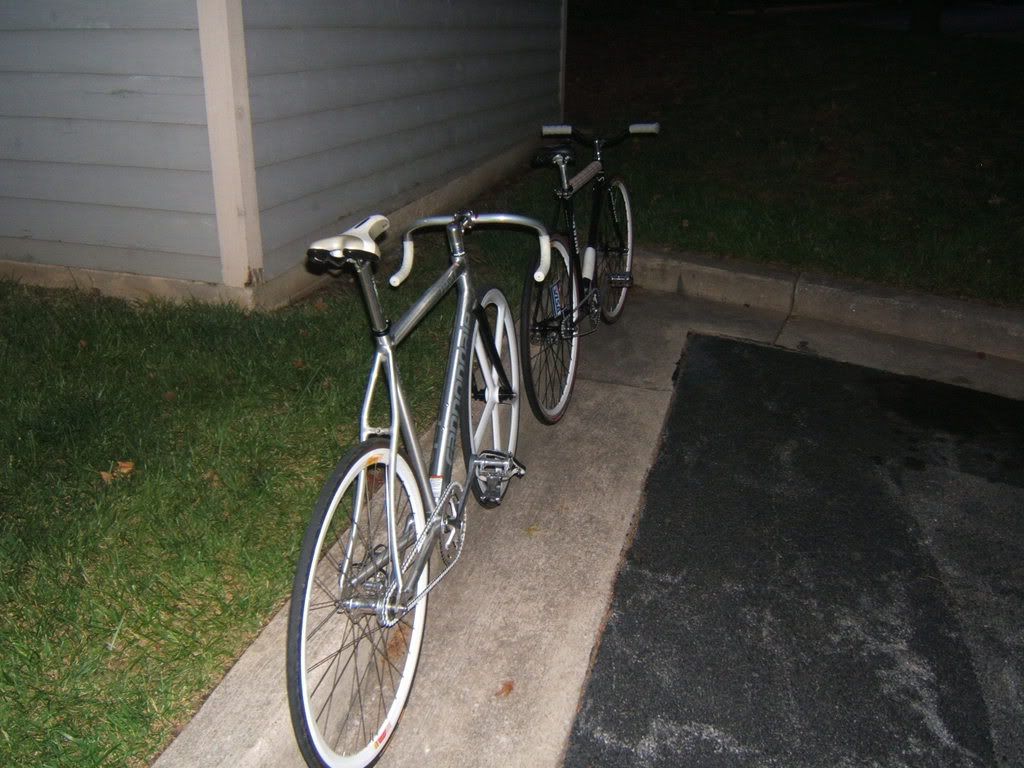 Crazy like a fox!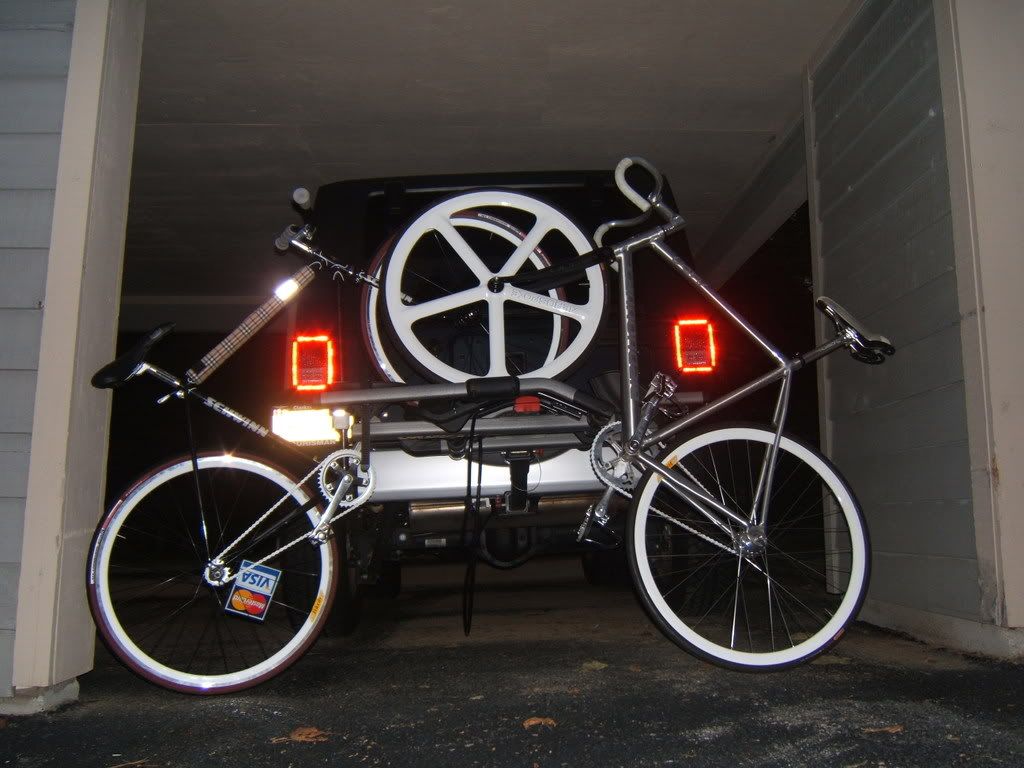 Roar! again.
Hope you likes or, you know, hates.
Peace