Discussion Starter
·
#1
·
I bought some Shimano Sora Flight Deck Shifters last week from a friend. These are the ones that have the thumb shifters.
I have not built up my road bike yet, so I thought I'd just mount these shifters on the set of bars that I'm going to use.
I was playing with the left shifter, and suddenly, I lose all "tension". This means that both the upshift and downshift shifters did not click at all. They still spring back to their resting position, but compared to the working right shifter, I do not get any clicks.
I removed the top cap to check out the internals, but no luck. However, once or twice, it would work again. However, when I shifted down or up, it would not work again.
Here's a video. Listen carefully for the clicks.
https://www.youtube.com/watch?v=0kxxoJp3aXs
At one point I thought I had fixed it, but after about 3-4 shift cycles (upshifts/down), it wouldn't function again.
It definitely has something to do with the spring on top, and the rectangular block (see pics). If I position it a certain way and move the shifters, I can feel and even HEAR it engage! Anyone have any knowledge on it.?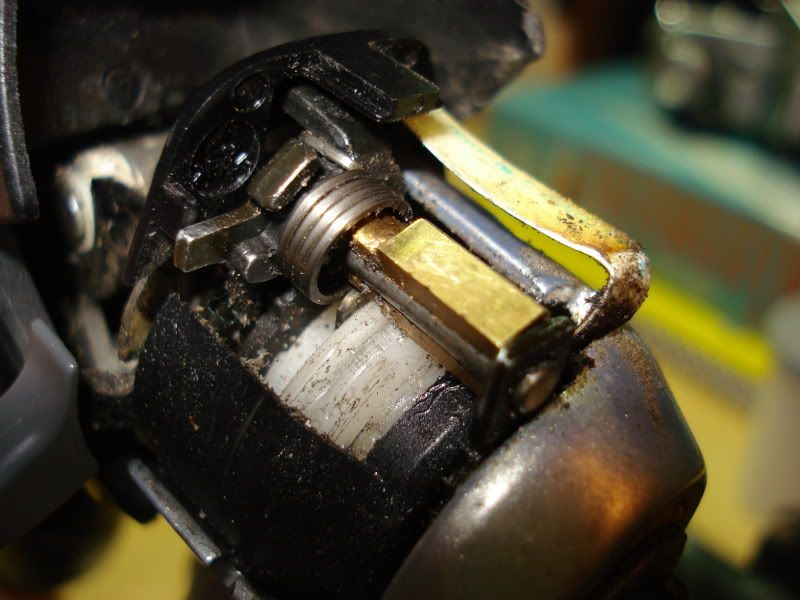 Thanks everyone! :thumb: