·
Unrepentant Mountainbiker
Discussion Starter
·
#1
·
We had a Safety Fair on the base this today. My squadron did bicycle safety (who's idea was that?) and I brought out my Specialized Tarmac road bike. I was going to bring my Fuel also, but someone else promised to bring out a mountain bike. So, in the interest of participation I said OK. Well, they did bring out a bike. It was a dept store Magna FS (F'in Springs) bike.
The welds on this thing looked like somebody had mixed up some JB weld and run it along the seam with their finger. It easily weighed over 50 lbs, and the U brakes were too weak to lock up a wheel. This was a not a safe bike to ride. They even mentioned that they were unable to stop while riding down hill on pavement recently. And here we have it on display for "Safety Day".
So, we have the bikes on display at our booth, and for the most part, folks are commenting on the Tarmac. It's hard not to notice in that OMG red paint. A few folks lift it up and are amazed at how light (It's really not that light at just under 20lbs) it is. The Magna goes unnoticed for about an hour. And then it happens.
Some dude comes up and looks right past the Specialized bling bike, gazes in awe at the Magna and utters the words, "Wow, that's a nice bike!" I did not laugh. I wanted too. It would have been rude and insulting. But lets take a look at the bikes.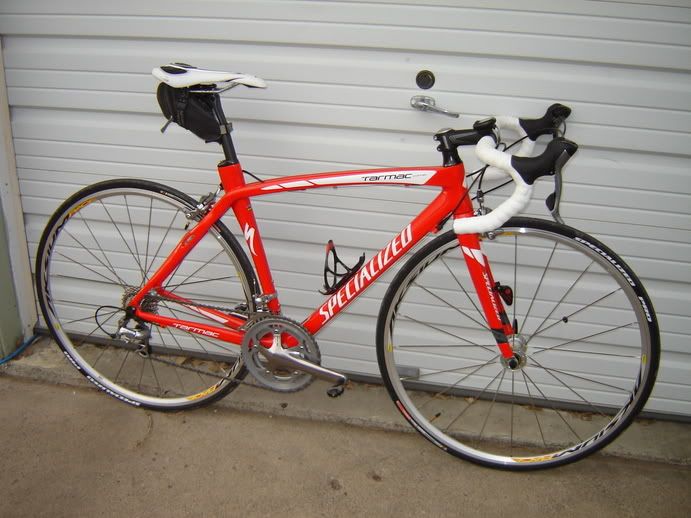 I do have to admit, I was pretty envious of the kick-stand.