Discussion Starter
·
#1
·
Although the consensus on the RBR forum was to avoid Newfound Gap because of the traffic, some agreed it was doable if you started early on a weekday. After driving up it earlier in the week, I really wanted to ride it. My other half gave me the okay, but since she would be watching the kids (including two nieces), she gave me a time limit. I wasn't sure I could get to the top in the allotted time, so I figured I would go for an hour and a half, then turn around.
Imagine: over 13 miles, all uphill, at a 5% average grade, for a total of almost 3600 feet of elevation gain. When I say "all uphill," I mean it literally -- there are no flat or downhill sections for 13 miles.
I started from Sugarlands Visitor Center (at 1460 feet). I left the parking lot at about 6:50 AM. I was the only car in the lot other than Park Service vehicles, and I did not see anyone before I left.
The overall grade doesn't vary much, but the first few miles are, by comparison, the easiest. It was about 63F, and I had two short-sleeve layers, but by the third mile in, I was sweating, so I had to stop and remove a layer.
Near the Chimney Tops pull-out, the grade increases for about 2 miles, or so it seemed to me. But I don't think the grade ever tops 7% or 8% - it is mostly a consistent grade the whole way. I didn't need to stand once, though I did just to change things up once in awhile.
Near Alum Caves Trail, I saw a Park Service radio (the expensive 2 way kind) in the roadway. I circled back and picked it up. At the time, I didn't know it was a Park Service radio, I just knew it looked like something the owner would want back, and it was heavy. I left it at the side of the road, as I didn't need to haul another pound or two to the top. About five minutes later, a man driving by shouts from his window "Did you see a radio in the middle of the road back there?" I say "Sure" and he pulls over. I tell him where it is, and he tells me I have less than a mile to go. I am wondering how he knows, but he tells me he rides this road a few times a year (I will see him again later). The next pull-out is familiar, and I know I am near the top.
Two more corners, and there it is - Newfound Gap, at 5060 feet (at the far end of the parking lot, according to Google Earth). 3590 feet uphill in 13.15 miles, in 91 minutes. About 7 minutes per mile.
I didn't bring a camera, although I had planned to. Just forgot, with all the other stuff I had jammed in the panniers. However, I traded photo ops with a group of hikers, and thanks John T., I have evidence.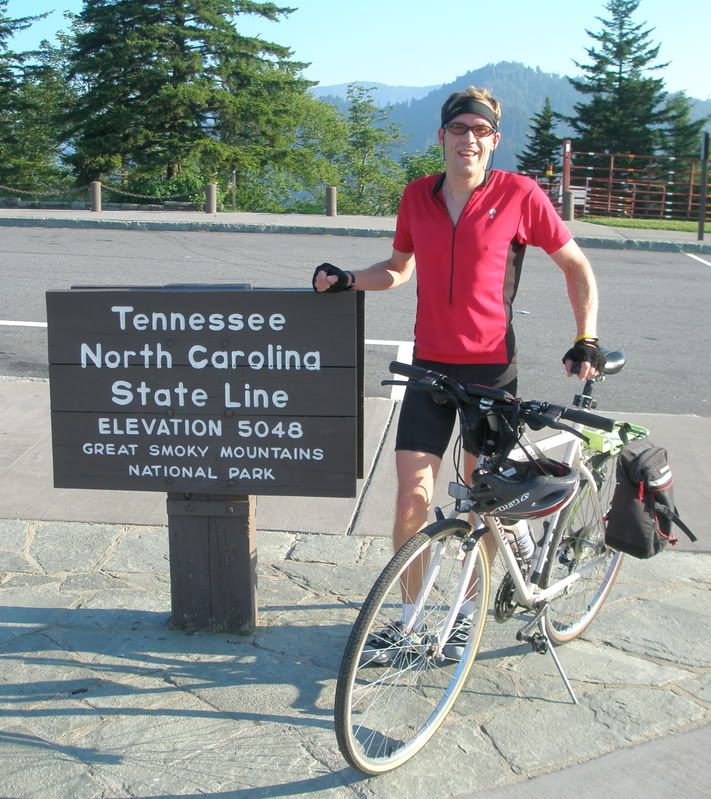 You can see my sweet ride here. See, I told you I hadn't planned this ride. This is my "tank" bike, not the Lemond. In the pannier, I even had a full size Crescent wrench, which I would need to remove the nuts on the rear wheel if I flatted.
Spent a few minutes enjoying the view, ate a banana, and pointed my wheels down for the fun part. Within a minute, my limbs were shaking, and my teeth chattering. I was freezing. It was probably 50-55F and I was going 40+ miles per hour -- that is quite a windchill, and I was still pretty hot and sweaty. I hadn't brought any long sleeve anything (hey, this is the height of summer, and I really hadn't planned this ride).
So now I am going downhill, limbs and body shaking, at over 40 miles per hour. I need to warm up, or I will shake myself off the bike. So I do the only thing I know that will help warm me -- I start pedaling. Hard. Each time a hit a patch of sunlight, I felt warmer, and it got noticeably warmer as I descended. I was only passed by two motorcycles and one car all the way down. I got down in 15 minutes, averaging a mile every 1:08 (that is apparently an average of over 50 miles per hour). I don't think I was going that fast, but I know I was going faster on a bike than I ever had before.
Back at Sugarlands, I meet the guy again. He says he retrieved it, thanks me, and tells me the radio is a Park Service radio that costs about $1500. Apparently he is a avid, regular volunteer in the park. Nice guy, he tells me the rangers keep a "bike log" in the Center and says I should sign it. He says the bike log was started by some guy in the 1950's (or '60's). So I go in and sign it. Pretty cool looking through it.
In sum, this may not be an epic climb like the Alps in France or Italy's Dolomites or even the Rockies, but still, one pretty sweet ride.