Discussion Starter
·
#1
·
Well, I thought no one would be interested in yet another ride report from Vienna, so I decided to mix in the first review of my new bike. Here it is: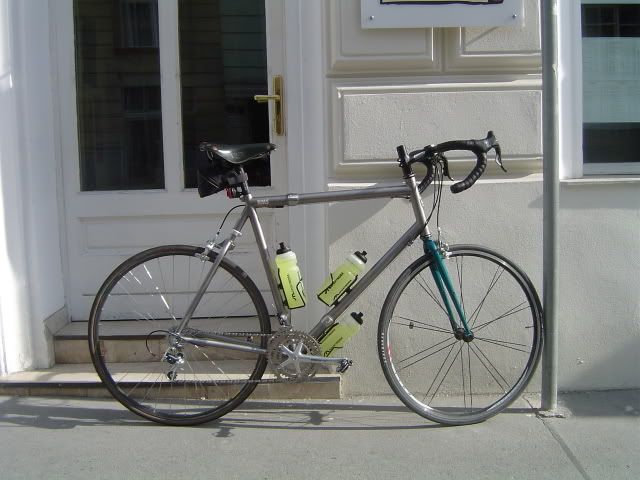 It's a Mootour with YBB seatstay and an IF steel fork. Here's another look: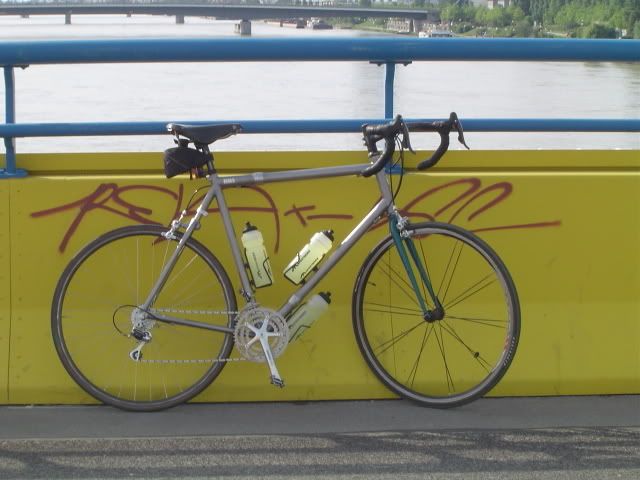 The bike was built for my split personality: randonneur on the one hand, climber/racer on the other. Chris Dimmick at Turin Bikes in Evanston did a terrific job fitting me--he and Jon Cariveau suggested a 61cm top tube with 5 degree of slope so that my torso be squarely over the frame. The idea was then for them to send the frame over here, and to transplant everything from my Lemond to the Moots, and finally sell the Lemond frame here in Austria. No one buys frames here in Austria, though. Plus my pal Oliver cut me a great deal on a mix of Campy Record (bottom bracket and cranks) and Chorus. Then the idea was for them to build me 32 spoke DT-Swiss wheels with Campy hubs, and fit the Rivendell Roly/Poly 27' tires on them. Of course that didn't come about, at least not for this weekend. Another hitch is that the IF fork is of the most unbelievably hideous color. I had asked for British Racing Green to match the Brooks Champion saddle, but got a kind ofpsychedelic peppermint green/blue. It's so utterly bizarre as a color that I'm actully beginning to think it might be cool.
To test the bike I decided to ride long enough so that I could tell from the pain what needed adjustment. For me that's about 80 miles, and for that kind of mileage it's good to head into Wine Country (Weinviertel) on the left side of the Danube.
First thing I did was to try the ascent to Our Mother of Grace (also known as little Lourdes) in Bisamberg. Why she hides out that high no one knows; in addition the last bit is big cobbles: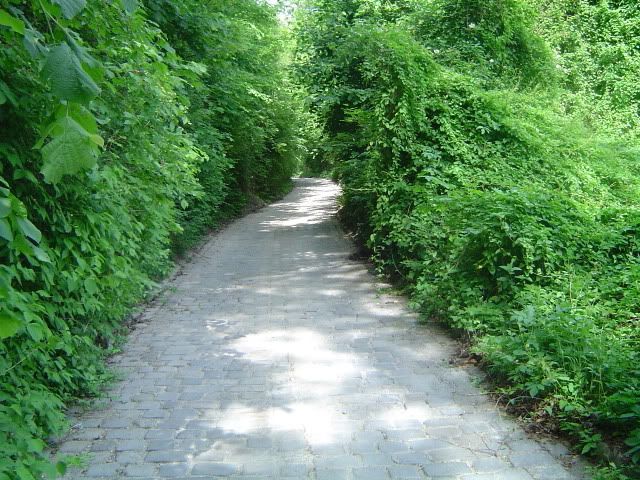 On my previous attempts I a) never made it up, and b) felt the bike lift in the front as I was pulling on the handlebars. No such thing here. Made it up with three full bottles and power to spare. Felt VERY good. But the bottom bracket was creaking. Would that be the infamous Record carbon desaster?
I soldiered on. This is what it looks like in Wine Country: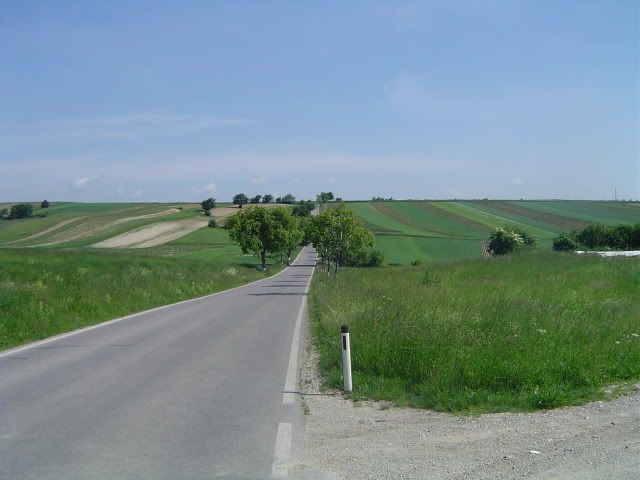 There were some serious climbs: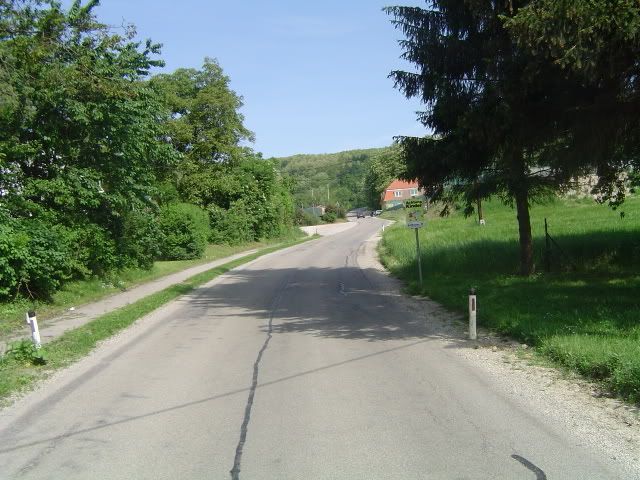 And some serious descents. The bike performed phenomenally. Climbing, let's face it, is a matter of strength. But descending (at least those long straight descents like here) is all bike, and you could feel how well balanced and precise it was. Steering was great, and I love the road contact through the fork.
Now we're about 45 minutes into the ride which is when on good days I get a backache and need to stop and stretch. It's a muscular pain, like a cramp, and I always knew it was from the fit. No pain. No pain (back pain, that is) the entire 6 hours of the ride.
Then I hit a major snag. In every little village I passed, I ran into scenes like these: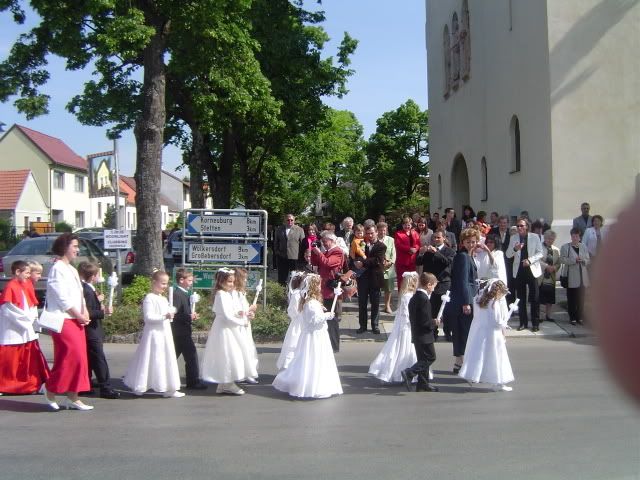 I screamed "out of the way, I'm testing my Moots", but no one moved. They're celebrating Jesus' first day in school or something, what with the kids and everything.
(To be continued...)