Discussion Starter
·
#1
·
I finally got everything together on my Mootour; the last items were the DT-Swiss rims with Campy hubs, 32 spokes and Rivendell Rolly-Poly 28c tires. The ride is amazing, everything I wished for: responsive (with the YBB locked out), very good road feel, fast, great cornering, great stability. Here is what it looks like:
I was planning to do a really long ride, perhaps getting to a town called Ybbs (not kidding), taking a photo with bike under the town sign and sending it to Moots. But as soon as I saw the Danube I knew there would be trouble: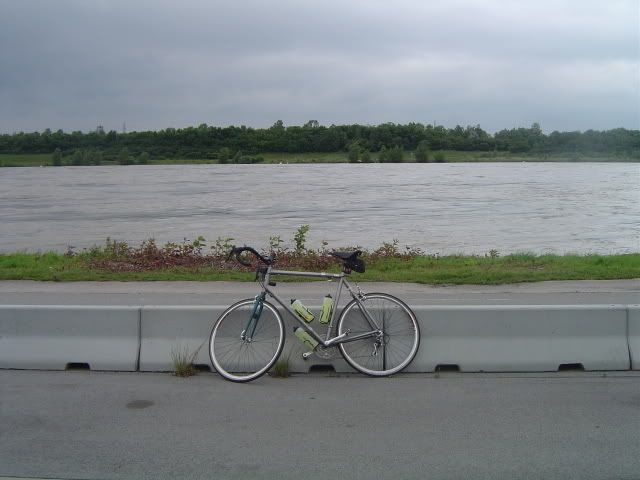 How a river that size can flood within two days (when I last saw it) is beyond me. But sure enough, a few miles later, the bikepath was flooded:
It had been windy so far, but now it started to rain as well. I decided to head into the mountains. They begin in Klosterneuburg with gradients like this:
Although it was raining quite heavily, I was passed by a lot of riders, and when more than one of them passed me twice, I and began to realize that this is where they train climbing. The ascent is incredibly steep (the road sign indicates 18%), but that is hard to photograph:
To my eternal shame and horror I have to confess I didn't make it to the top without stopping. I had grabbed the wheel of another rider who was much too fast for me, and then I couldn't see the end of the climb and panicked and got off the bike. With a slower initial pace I would have made it.
Once you're on the ridge, it looks like this--by this time it was raining hard and blowing strong and I was in a really bad mood.
After a few miles there was a spectacular descent back into the Danube valley, beautiful switchbacks in a cathedral-like forest. It was too wet to really let loose, but the 5 miles through the forest were magical. At the end of the descent I popped a caffeinated power bar, and headed back up to redeem myself--without any other problems than the burning I still feel in my legs.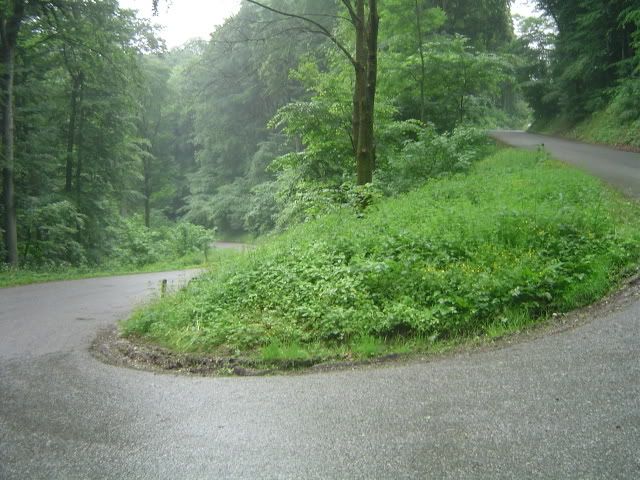 So it wasn't a real test for the Moots, but I couldn't be more pleased with the performance so far. The weather here is so bad that they're canceling mountain races because of snow; as soon as I get a sunny day and I can get away, I'll put in a long day and give a more precise review.