Tonight a revelation came to me. I had been debating whether or not to buy a custom cruiser wheelset, and as I was glumly deleting yet another auction of beautiful wheels that I'd backed out of at the last second, a though hit me like a lightningbolt.
Last night I won a pair of lighter training wheels which I plan to fasten to my 04 Allez. Nothing special, but it sure is a lot of fun. The wheels which were on the 04 Allez would trickle down to the beater commuter single speed and the 27" steelies on the commuter would go to that great big bikeshop dumpster in the sky.
The aforementioned flash lit up my gray matter with the following thought. Why not put the 27" SS steelies on the $5 goodwill special the salesperson apologetically sold me? Genius! It could work!
I worked a deal for 20 minutes in the garage from my wife--kids needed to be readied for bed--and threw myself down the stairs and at the beater, its headset and innards naked and gleaming on the workbench. I lubed everything and put it all back together, bars flipped mustache style, then tried the front wheel. It slid into place like it was designed for it, and damn if the 27" didn't round out the way that front end looked!
I gleefully loosened the rear wheel from the commuter and slid it into the droputs of the goodwill giveaway. The tire rubbed on the eyelet mount for the long gone fenders and I reached for my bastard cut file. Twenty five minutes and two sore fingers later the rear wheel slid in with a 1/4 inch space between the tire and the fender mount. I stepped back to look at my creation and a nutty grin broke out on my face. It worked! My creation! The child of my mind had actually worked!
I took it out for a spin as the chainline held reasonable tension, and promptly froze my hands off. Windchill and naked flesh mingle meanly, and I had to stop too soon. I stopped my brother, one of the non-biking types whom I have fixed in my mind to convert, and convinced him to mount up a fully-free bike by my sheer exuberance. He spun about on the blacktop, grinning like I remember him doing on his old Ross Mt Pocono, and came to a halt after 2 or 3 minutes. "Pretty cool" he said, eyes all for the bike, "I like it". I grinned sensibly in response to his pithy answer. Inwardly I thought "Damn skippy!"
Here are some pictures--they make me proud to own a beater with an acerbic paintjob, repackable hubs, a serviceable headset, and steel that can be tweaked, filed down, brazed on, etc.
Welcome me brothers for I am home!
Pictures of my bike #5, dubbed Animus!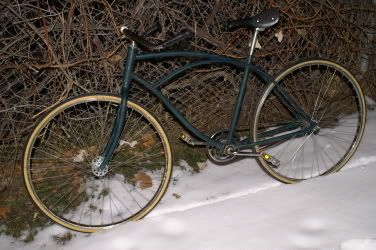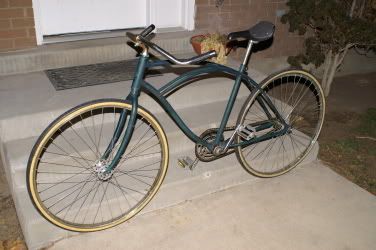 I am going to drill and mount a front brake caliper (seems to be ample space, we're talking 1 1/4 inches under the crown race) run a minimalist line from a cross or BMX lever, and it'll be done. I never knew that wrenching could be so much fun!