So Adam Yates is on the attack, there's one kilometer to go and he's got a handful of seconds on those he's jumped from, then BAM.
Adam Yates injured after inflatable collapses into road at Tour de France (video) - Cycling Weekly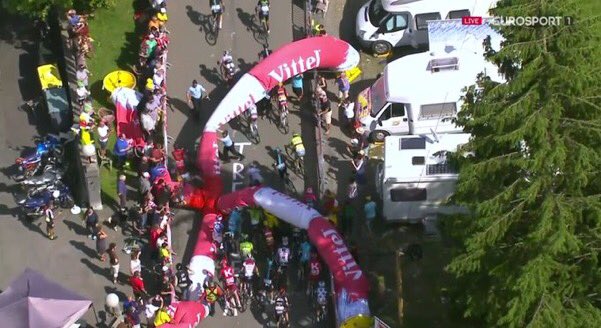 Yatesy crashed right on the ol' face, he did.
"I crash a lot on my chin! In San Sebastián I had eight stitches, then the time before seven stitches. Quite a lot of crashes on my chin, but I'm OK. You get on with it, what can you do."
Check the standings and you'll see he lost over 4 minutes to the group he was ahead of.
Tough roll kid.
The race jury though... the race jury.
Adam Yates promoted to second overall in Tour de France - Cycling Weekly
Yates vs. the Flamme Rouge? Yatesy wins!!
Look forward to seeing him in White tomorrow.